Management of Human Resources
C'est notre Vision que n'importe quel corps social (une société, une division, un département, un service au sein d'une structure institutionnelle … sont tous des corps constitués d'hommes et femmes) peut seulement être analysé comme la congruence des Personnes, des Processus, de la Culture et de l'Organisation dans un environnement donné.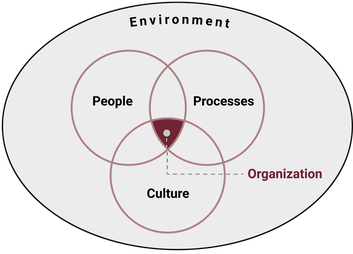 In the Management of Human Resources:
It is our creed that it should be globally recognized that People are the prime center of the energy and capability of corporate value creation.
It is our experience that Processes are too often neglected and, in most cases, segregated from the soft skills associated with People Management in the quest for value creation.
It is our belief that Culture should be a collective awareness and engagement towards a common realization of value creation stemming from productive results.
It is our thinking that Organization is a mix of purposeful potentials for value creation, a positive encounter of People, Processes and Culture.
It is our observation that Organizational Capability can only be understood and defined within a precise Environment, where rigorous benchmarking is essential.